DAC Builders Ltd Health & Safety


Before DAC Builders Ltd undertake any project, our foremost consideration is the health, safety and welfare of our operatives, and the general public.
The health and safety culture at DAC Builders Ltd is the combined achhievement of individual and group values. Competencies, attitudes, and perceptions together with the enthusiasm and commitment of team members all help to contribute towards the development of the companies health and safety management.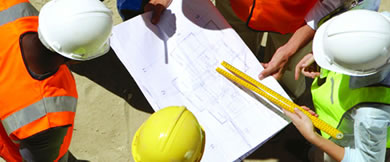 Our Managing Director is responsible for the overall implementation of the company Health & Safety Policy and is committed to ensuring that all levels of management within the company strive to achieve the highest standards.
With leadership, comes an understanding of the importance of health, safety and welfare, which is appreciated by the whole workforce. The emphasis on health and safety is conveyed throughout all levels of the company with communication playing a vital part up in the every day running of the business.
Each level of management, from the Managing Director through to the site staff, understands their role and the duties and responsibilities placed upon them. Regular inspections of sites are carried out by our in-house Safety Officer to ensure compliance with health and safety legislation and findings are recorded to monitor the performance of all sites.
It is our policy to ensure the health and safety of employees and sub-contractors who are working on our premises, along with the safety and welfare of visitors, clients and members of the public. We pay particular attention to the way that tasks are approached and this is reinforced by appropriate methods of promoting the awareness of activities that are taking plance.
A proactive rather than reactive approach to site safety is the key. We take an active approach to accident prevention including the identification of hazards, and the avoidance, reduction, or elimination of risks. Appropriate measures for prevention or reducing risk are implemented in the early stages of project planning and then carried through to site set up to run in conjunction with safe working practices.
We constantly reinvest in the development and implementation of health, safety and welfare with paricular attention to the training or personnel. Consulation with our employees on health and safety matters is crucial to our continued development and training programmes are constantly reviewed to ensure that competency levels are maintained.
With our health and safety culture and commitment to high standards, you can feel confident in our ability to deliver your projects safely and without compromise.
I am sure our CHAS Accredition along with ROSPA and Safe Contractor shows our full committment to maintaining high levels of Health & Safety within our company.
Graeme Cook (Director)
Dated 22 November 2018